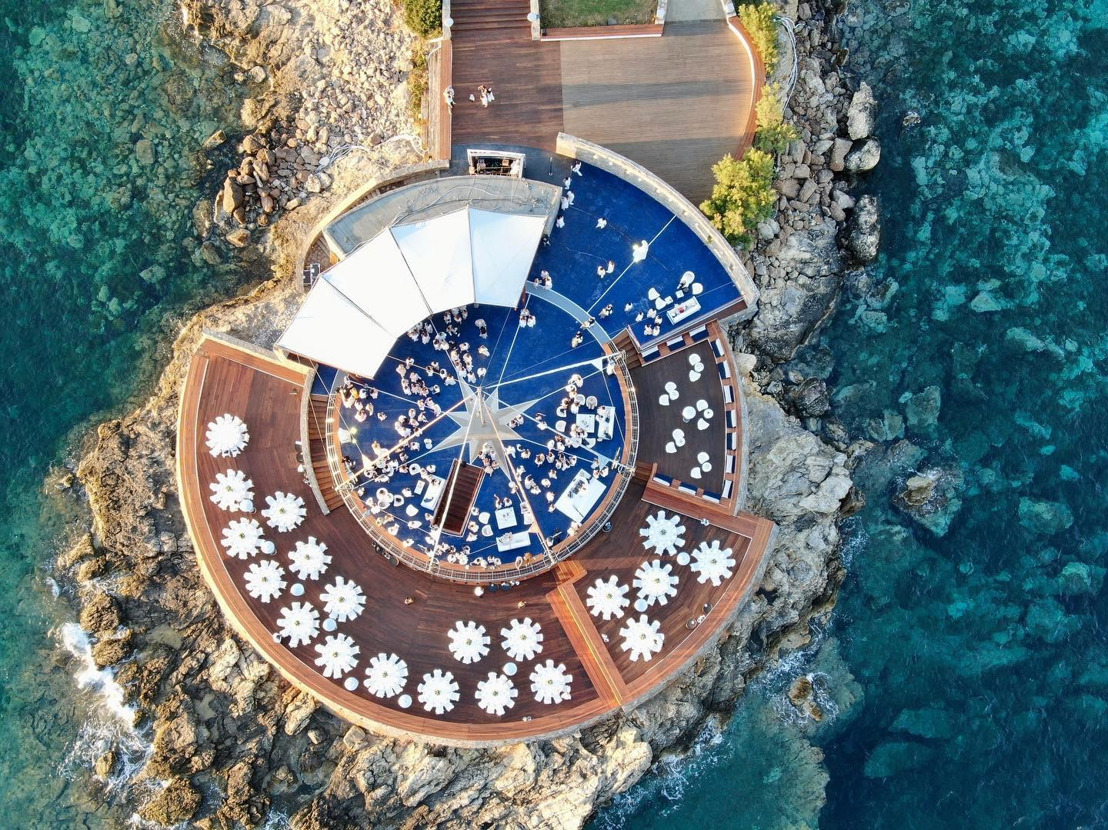 Greek Wedding Insights by a true Specialist
A great climate and captivating scenery, are just a few of the many reasons why Greece is one of the most popular destinations for weddings abroad.
Tuesday, February 4, 2020 — We sat down with Eleni Diamantara, Grand Resort Lagonissi's Banquet Sales Manager, to talk about why so many couples and wedding planners opt for Greece and Grand Resort Lagonissi in the Athenian Riviera.
In your opinion, what makes wedding couples decide to get married abroad?
"Greece has an amazing climate, sunsets and sea. Grand Resort Lagonissi is a popular choice because it's so easy to travel to from the UK, being just a 25-minute drive from the airport! People love the possibility of various events, a combination of rooms and multiple spaces in one property such as the traditional white Greek chapel, the isolated Veghera Club at the edge of the peninsula or even being able to hold your ceremony on the beach! Our wedding venues have won many awards for this and they can cater to so many different types of weddings, with a potential of up to 1,200 guests."
When is the best time to get married in Greece?
"From May to September as most days are warm, sunny and there is hardly any rainfall! It's the best time to make most of our panoramic outdoor venues and plan the special day to include the stunning sunset. Saying that, April and October are also lovely with many beautiful sunny days and temperatures in the low twenties, which some people actually prefer as it can get too hot for them in the middle of summer."
How far in advance do wedding planners get in touch with you to arrange a wedding in Lagonissi?
"It's almost always one year in advance! Of course, it also does depend on the number of guests and logistics. The more of both the more time should be allowed. There are a lot of options at Lagonissi and we like to go down to the smallest details to ensure we have the perfect wedding planned. Each couple is different and we tailor-make every wedding to suit their needs and desires."
Which are the most frequently asked questions you get?
"The most frequently asked questions are regarding backup options in case of rain, whether clients should have catering and a bar outside, if the resort provides everything, if we have experience of Jewish, Indian or Lebanese weddings and what paperwork they need for a civil wedding. We have many different tried and tested back-up options as well as experience of providing amazing catering outside. You can leave it all with our dedicated and well-experienced wedding planners who take care of every detail so the guests have to worry!"
What is the most complicated request you've ever handled?
"We get all kinds of different requests, from simple requests of 20 people to weddings of 300 people so it really varies. People from all walks of life have dreamt their special day differently so there are always different requirements. Off the top of my head, we find Jewish or Asian weddings very interesting and rewarding as they come with specific requirements about celebrations, procedures and even menus - Kosher catering is very specific! Having said that, we have successfully hosted such weddings several times and always go through each and every single requirement, making sure we fully comply with what the wedding planner advises."
In your opinion, why is Lagonissi a preferred choice of wedding couples and wedding planners?
"A huge factor is our great team that has loads of wedding experience, which means the best possible outcome in the couple's most important day. Weddings are exciting at Lagonissi right from the beginning, as even party planning can be arranged in the comfort of a hotel suite or by the beachfront. We have renowned chefs to suggest creative wedding cakes and desserts and professional designers for flower arrangements and venue decoration. We have a list of famous DJ's and great technical support for state-of-the-art sound and lighting. It's also our specialized services: photography, special effects and limousine rentals as well as special bridal treatments and beauty facilities. Everyone loves that there are plenty of options for venues and accommodation, including the amazing Honeymoon Suite for the lucky couple."
For more information about weddings and celebrations at Grand Resort Lagonissi visit: lagonissiresort.gr/athens-wedding-venues
Link to media gallery: grl.prmediaco.com/media/album/1511
For enquiries, email dimitris@prmediaco.com, Dimitris Psycharis