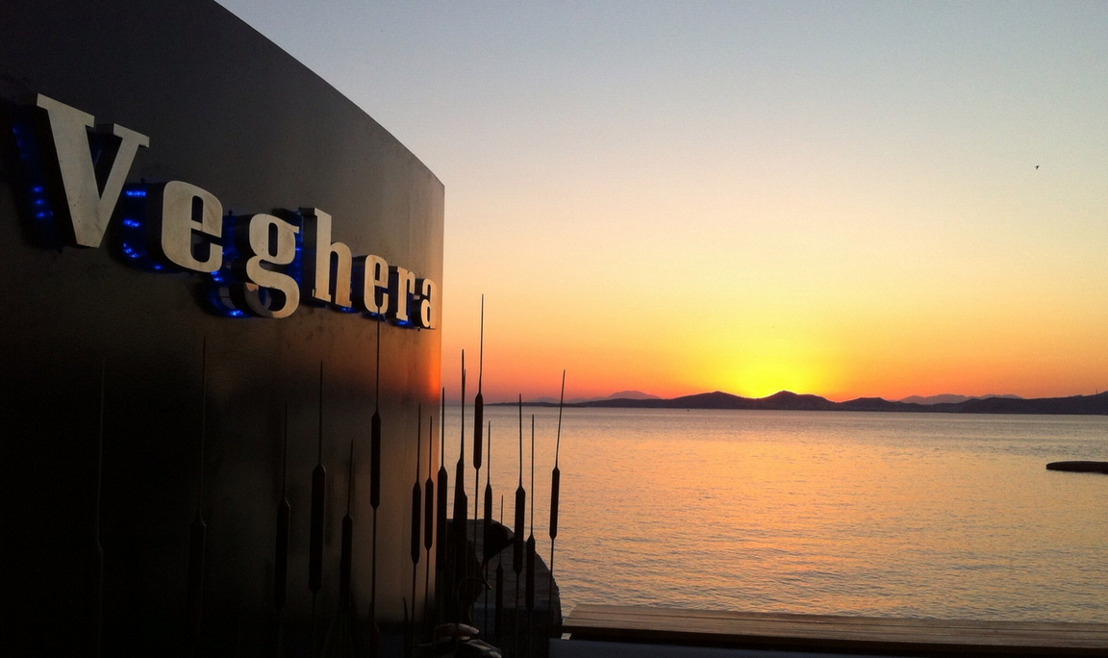 Venue in the spotlight: Veghera
Looking to add sparkle to a business meeting, conference, event, or incentive? Look no further - From a small social gathering, to a large conference, leading business hotel Grand Resort Lagonissi offers endless options to create a memorable occasion for all, in a prime location on an idyllic 72-acre peninsula on the Athenian Riviera.
Monday, May 25, 2015 — Perfectly situated on the southern water's edge of the peninsula, offering complete privacy and tranquility, Veghera is considered one of Athens' trendiest venues. With its chic, sleek furnishings and nautical touches, Veghera is ideal for medium-large scale social events, from a sophisticated anniversary party, to an incentivizing meeting.
With its open air layout, reflecting the aura of a yacht out at sea, Veghera embraces the unspoiled natural landscape, with mesmerizing views of the Aegean Sea - the perfect place to watch the sun sink below the horizon. With a signature cocktail in hand, swaying to the sounds of the sea, the space provokes inspiring conversation and provides an outlook that will enchant the whole party.
Utilizing many years of experience, our specialist team is on hand to provide a tailored service and transform the space through branding, decorations and the instillation of state-of-the-art equipment, adding a personal touch to proceedings, no matter what the requirements.
Bathed in natural sunlight the Cosmos Ballroom also optimizes retractable glass doors to bring the outside in, uncovering mesmerizing views of the Aegean Sea, to provoke inspiring conversation and give an outlook that will enchant the whole party.
Planning a memorable conference, a stunning event or an inspiring corporate retreat? Seeking venues with the added wow factor? Contact us on mice@grandresort.gr to find out more about Europe's Leading Meetings & Conference Centre
World Travel Awards 2015

Following last year's success at the World Travel Awards, when the resort was bestowed the prestigious title of 'Europe's Leading Meetings and Conference Centre 2014', it is a true honour to see the hotel nominated once again in this category.

Alongside many stunning hotels from across the continent, Grand Resort Lagonissi is also up for 'Europe's Leading Luxury Resort', 'Europe's Leading MICE Hotel', 'Europe's Leading Resort' and 'Mediterranean's Leading Beach Hotel'.

Vote for Grand Resort Lagonissi via this link:
http://www.worldtravelawards.com/vote-for-grand-resort-lagonissi-2015
UK Press at Grand Resort Lagonissi

During the month of May a number of representatives from prestigious UK publications visited the resort and expressed their excitement at the diverse range of facilities on site. These included writers from BA High Life, Daily Express, Woman Magazine, Good Housekeeping and Concierge Magazine, spanning a vast spectrum of British media.

As a result Grand Resort Lagonissi will be present in the UK market for many months to come and we look forward to reading the wonderful words written about the hotel!
Dimitris Psycharis Account Manager, PR Mediaco